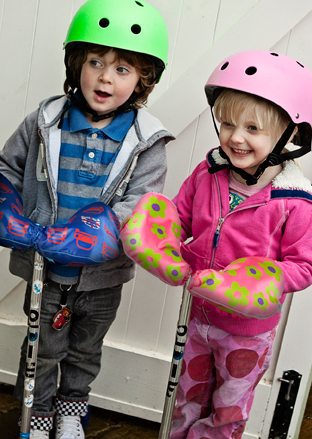 About Scooterearz Hand Warmers
The concept of Scooterearz came to life one chilly winter morning during the chaotic routine of the school run. With small children on scooters and a toddler in a buggy, getting out of the house on time was always a challenge. It seemed like there was always something left behind, and more often than not, it was gloves. The inevitable whining would commence, and I'm sure many of you can relate to that!
I knew I needed a solution to keep my kids' little fingers warm, something that could stay on the scooter and also add a cool factor to their rides. That's when the idea for Scooterearz started to take shape.
This journey began in 2010, and since then, Scooterearz has evolved with various designs, colors, and shapes, including the introduction of our complementary Scooter Bagz range. In 2022, we're thrilled to present an updated collection that includes both patterned and plain colors, with the exciting addition of our new Leopard range.
Scooterearz has truly made a difference in ensuring my kids can continue to enjoy their scooters regardless of the weather. If you're looking to keep your kids active on their scooters this winter, then Scooterearz is the perfect solution for them